Account¶
Setup Settings Account
The Account overview allows you to edit Company and General Information, set SMTP Details, and view Packages and the Service Agreement.
Edit Account Details¶
To add or edit Company information, click the blue pencil icon. This allows you to edit:
Name
Address
Billing Method (toggle between per channel and per minute billing by clicking on the blue text, this may be changed once per 30 days)

Contact Information for the account
Additional Configuration
To modify any other settings, please contact Technical Support.
SMTP Details¶
To add or edit SMTP information, click the blue pencil icon to Edit:
From Address is the email address that will receive the details.
Username and Password should match what is configured on your server.
Server is your server domain.
SMS From is the mobile number that SMS messages will be sent from.
Click Save.
Test Email or Test SMS buttons send test messages via each method. The buttons are found to the far right of the SMTP details window.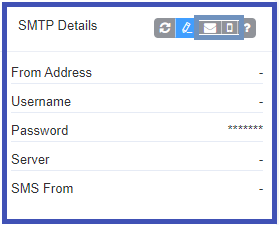 TLS SMTP
To use TLS SMTP, set the Server format as "mail.yourdomain.com:465". If not specified, the system will use the default SMTP port 25.
Packages¶
Below the Company information is a listing of the applied ConnexCS packages, along with Quantity, Name (of the package), and the Cost (in per minute changes).
Click Enable Call Recording to add the feature to the Account. First, this will need to be enabled on individual accounts under Management > Customer > [Customer Name] > Routing > Ingress routing > Media.

ConnexCS Service Agreement¶
To view the full ConnexCS Service Agreement, click the orange banner at the bottom: